7. Mount Work Trail, Victoria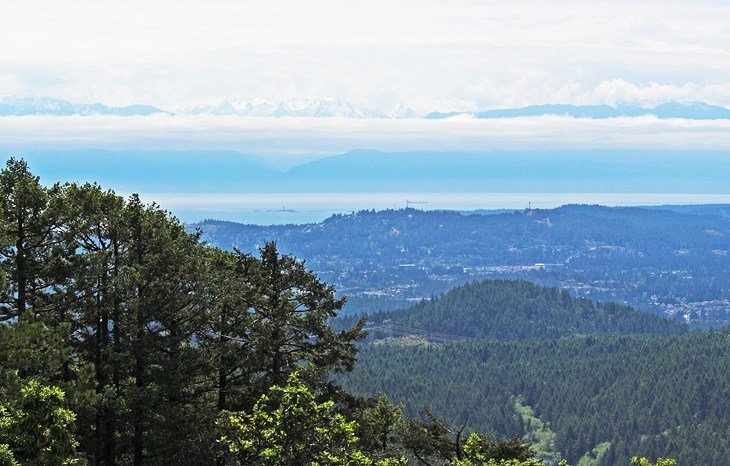 Mount Work, just a 40-minute drive from downtown Victoria, offers stunning mountain top views over Saanich Inlet, the Strait of Juan de Fuca, and beyond to the dramatic peaks of the Olympic Mountains. The 4.5-kilometer return-trip trail takes you up through a forested area, steep at times but not technically challenging, to two viewpoints. Each of these looks out in different directions. It's best to leave this hike for a clear day when you can fully appreciate the vistas. The trailhead is in Mount Work Regional Park, beyond Durrance Lake, at the Ross Durrance Road Parking Lot.
8. San Josef Bay Trail, Cape Scott Provincial Park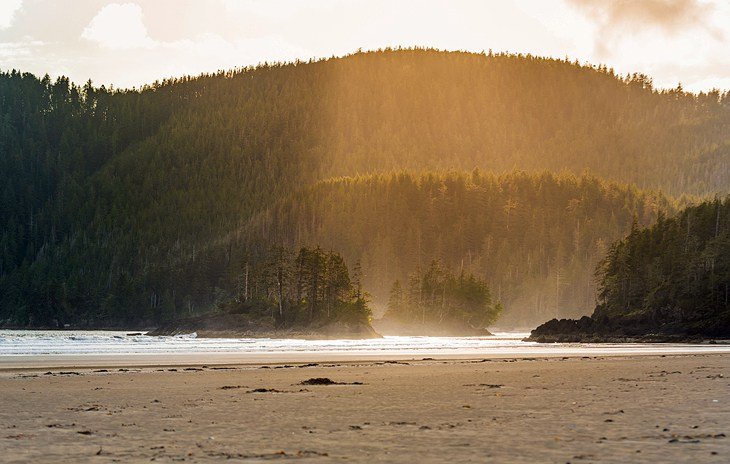 In the far north of Vancouver Island, along the remote western shore, is the ruggedly beautiful and little visited Cape Scott Provincial Park. This is approximately an eight-hour drive north of Victoria and a 4.5-hour drive north of Campbell River, beyond which there is very little out here other than forest and a couple of small towns. Cape Scott Provincial Park offers access to some dramatic scenery and wonderful hiking trails. The San Jose Bay Trail is an easy five-kilometer round-trip hike, which takes you out to San Josef Bay, an area of beach, rocky shoreline with tidal pools, and sea stacks. Bring a lunch and make a day of it out here, exploring small shore caves at low tide and appreciating the remoteness and solitude.
San Josef Bay is about a two-hour drive from Port Hardy. If you are going to be in Port Hardy, one of the easiest ways to see this area is on a San Josef Bay Tour, which provides transport from Port Hardy to Cape Scott Provincial Park and includes this hike.
If you are interested in a more advanced trail, consider the 23-kilometer one-way Cape Scott Trail, or the North Coast Trail, a 43-kilometer add-on to the Cape Scott Trail. Both of these are in Cape Scott Provincial Park and are for advanced hikers who are familiar with coastal conditions in this area. The North Coast Trail requires a minimum of five days, but hikers should prepare for seven to eight days to complete it.
9. Elk River Trail, Strathcona Provincial Park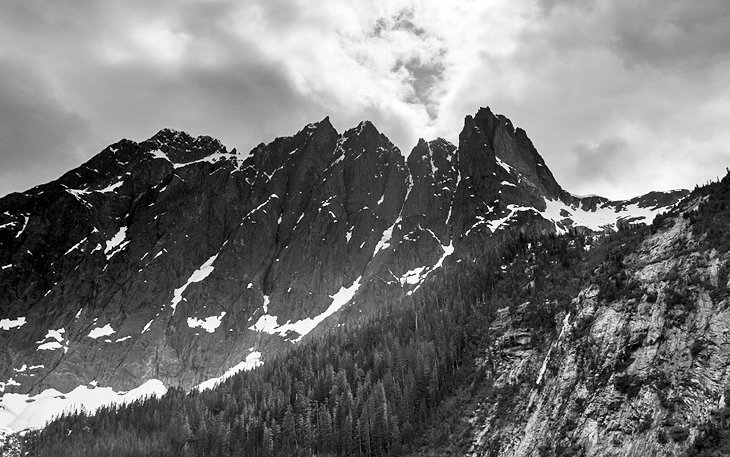 Strathcona Provincial Park is just a 45-minute drive from Campbell River, in North Central Vancouver Island. The Elk River Trail is 11 kilometers, with 600 meters of elevation, and it is one of the most popular and beautiful hikes in the park. It takes you up the Elk River Valley to scenic Landslide Lake, where surrounding mountains reflect in the calm waters. If you want to do this hike as a two-day trip, camping is available at Butterwort Flats, six kilometers from the start, or at the upper gravel bar campsite, nine kilometers in. You can't camp at Landslide Lake. This is an in-and-out hike.
10. Paradise Meadows Loop Trail, Strathcona Provincial Park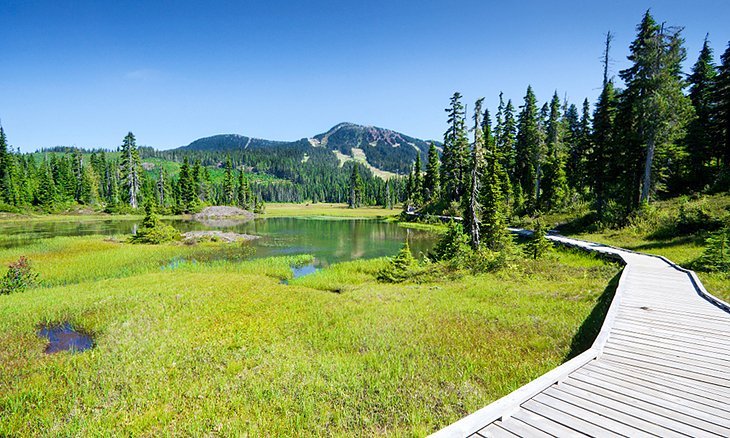 At the base of Mount Washington, Paradise Meadows is a short and easy 4.2-kilometer return-trip trail in Strathcona Provincial Park and can be done in about 1.5 hours. Running along boardwalks and a gravel path, this hike can be done by anyone and is wheelchair accessible. This sub-alpine area offers some beautiful scenery and comes to life with colorful wildflowers during the summer. The trailhead is located at the Mount Washington Ski area