Seductively squeezed between the Santa Ynez Mountains and the sea, Santa Barbara boasts some of the most scenic day hikes in California. Standing atop these rugged peaks, you can gaze out over striking views of the city, the ocean, and the Channel Islands shimmering on the horizon. In shady canyons, swimming holes and soothing waterfalls make refreshing rest spots and picnic venues.
Wildlife sightings are an added bonus. Along the coast, clifftop trails offer spectacular views of the Pacific, where you can see harbor seals basking in secluded coves, and if you're lucky, glimpse dolphins and even whales not far from shore. Hiking trails also lace the Santa Barbara Botanical Gardens, though access requires an entry fee. From easy family-friendly hikes through sycamore-studded canyons to challenging summit climbs, Santa Barbara is a hiker's haven. Before you hit the trails, be sure to take plenty of water and keep an eye out for poison oak.
1 The Douglas Family Preserve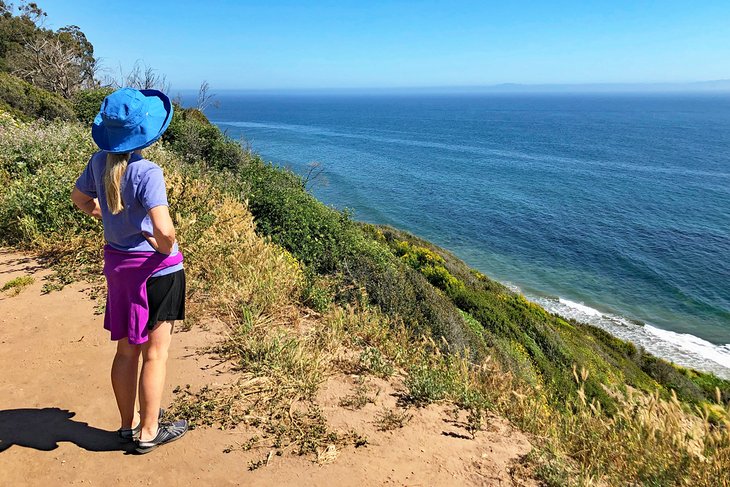 Known by long-time locals as the Wilcox property, the 70-acre dog-friendly Douglas Family Preserve is one of the most rewarding of Santa Barbara's easy hikes. Named for its movie star donor, Michael Douglas, and his father, Kirk, this much-loved trail is a favorite with dog owners because it's one of the few areas in Santa Barbara where their furry friends are allowed to roam off leash in designated areas.
Skirting magnificent sea cliffs, the three-mile trail winds through eucalyptus trees, oaks, and cypress trees with stunning views of the ocean and Arroyo Burro Beach below. Lucky hikers might spot dolphins or whales offshore. This beautiful trail is also family friendly – although children should steer clear of the cliff. One corner of the park is a popular launching spot for hang gliders. You can reach the preserve from the east at Medcliff Road and park near the intersection with Selrose Lane or access it via a sidewalk from the Arroyo Burro Beach parking lot.