6 Owl's Head and Peacham Bog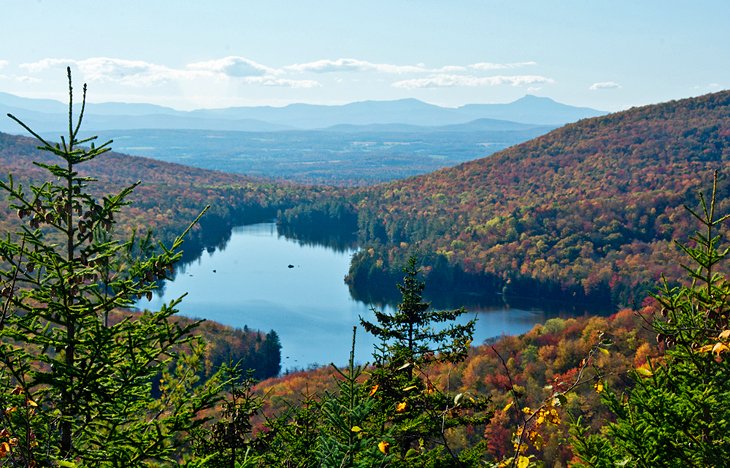 Groton State Forest covers a large swath of land in Vermont's Northeast Kingdom region, and includes more than a dozen hiking trails. Geology and a fine view of the mountains and ponds are the main interests in the ten-minute climb up the CCC-built steps from the parking area to the top of Owl's Head. Or you can climb from the base via a trail from the road between New Discovery Campground and Osmore Pond. The granite ledges at the top were formed more than 300 million years ago. After the granite had solidified from its molten state, cracks appeared and were filled by molten rock that was forced into the space and cooled there, creating the dramatic stipes that crisscross the bald dome.
From the nature center (where you can pick up a trail map) allow about two hours to explore the 748-acre Peacham Bog Natural Area, one of Vermont's largest bogsand one of only two known "raised" bogs in the state. It is surrounded by a coniferous forest of tall trees, and at one point, the environment seems almost like a rain forest, with moisture-loving plants and mosses. Along with pitcher plants and bog rosemary, you may find several orchid varieties, and you will get a good look at a beaver dam. The bog does not have a boardwalk, so waterproof boots are helpful, especially in wet seasons. Because the bog is fragile and often unstable, and because you are far from traveled areas, you should stay on the trail.