7 Whiteoak Canyon Hiking Area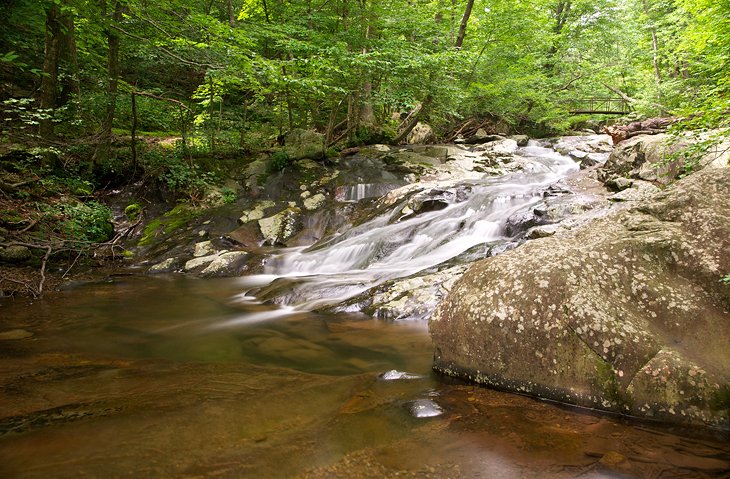 The Whiteoak Canyon area offers a variety of hiking opportunities. The Cedar Run to Whiteoak circuit is a popular all-day hike that takes between five and six hours to complete. This scenic loop passes eight waterfalls, including the 86-foot-high Whiteoak Cascades, as well as a number of other unique features. At one point on the Cedar Run Trail, if there is enough water, you can swim and slide down rocks, which can be a refreshing treat on a hot day. Some sections of this hike are very steep, and the circuit is rated as strenuous. The parking area off Skyline Drive is between milepost 45 and 46. Alternatively, it is possible to access the Cedar Run Trail from outside the park on Route 600.
8 Rose River Loop Trail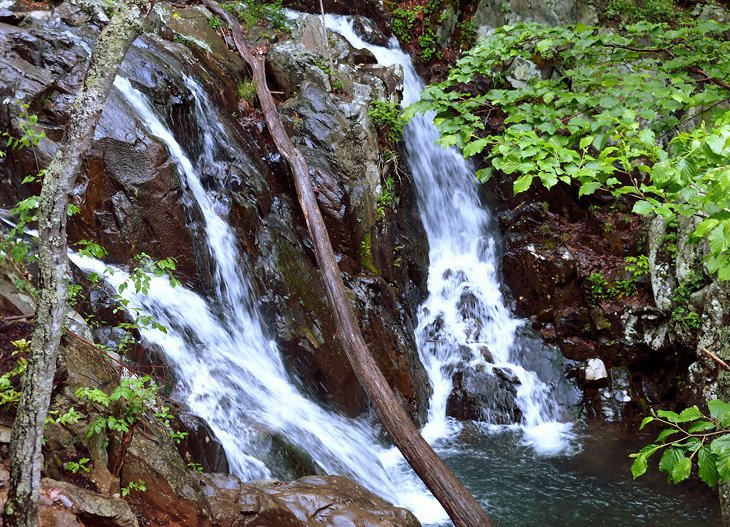 The Rose River Loop Trail is a nice option for hot days, as it meanders through large trees and past waterfalls and streams. The two main highlights on the trail are the Rose River Falls and the lower portion of Dark Hollow Falls. If you are hiking in a clockwise direction, the trail passes Rose River Falls, and then enters an up-and-down section of trail that runs beside a stream with small waterfalls, until it reaches the connection with the Dark Hollow Falls hike. At this point, you can take a small detour up, for a look at the upper portion of Dark Hollow Falls, before returning back down and continuing on the Rose River Fire Road. This is a moderate, four-mile circuit, beginning at Fishers Gap Overlook.
9 South River Falls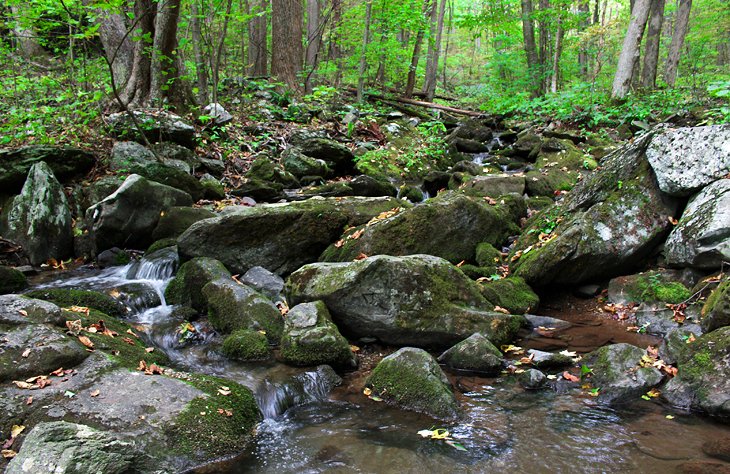 The South River Falls Trail can be done as an in-and-out hike to the falls and back, or it can be hiked as a circuit, taking the fire road and Appalachian Trail back. The main observation point for the falls is quite a distance away from them, and the view here is not nearly as good as it is for other waterfalls in the park. There is an optional 1.4-mile round-trip spur that leads to the base of the falls, which is highly recommended. The main trail follows a meandering creek for a short distance. This is a good opportunity for photographers looking for easy access to small falls and moving water. It's possible to walk into the creek and across stones for close-up images.
The trail out and back to the South River Falls observation platform is 2.6 miles return. The full loop, including an additional hike to the lower falls, is 4.7 miles. Parking for this trail is at the South River Picnic Area, just north of milepost 63.