4 Appalachian Trail across the Presidential Range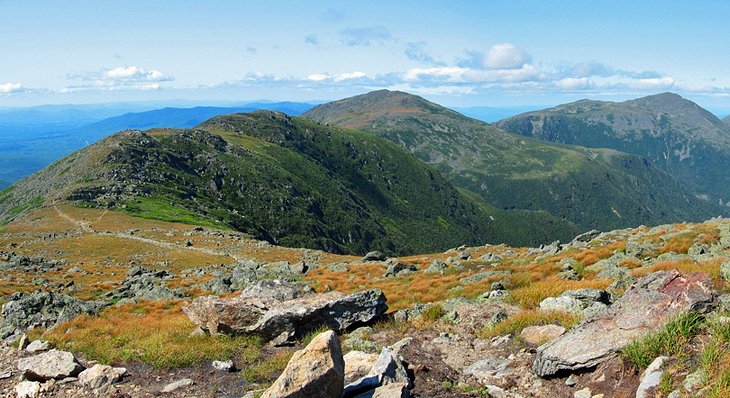 One of the most beautiful sections of the entire Appalachian Trail is the crossing of the Presidential Range, over the summit of Mt. Washington, the tallest peak in the northeast. AMC huts dot the route providing bunks and meals, and a hiker shuttle makes it possible to hike hut-to-hut without backtracking. A multi-day hike will take you from US 2 in Randolph to US 302 in Crawford Notch, and depending on how many side trails you choose to follow, covers between 13.5 miles and 18 miles and involves moderate to difficult hiking. It is largely above timber line, so weather is an important consideration. Don't even think about doing it unless you are fit, well equipped, and carrying the latest AMC White Mountains Guide.
Taken north to south, the route involves the ascent from Randolph to Madison Springs Hut (the Valley Way Trail is the easiest and most sheltered approach), where you join the Appalachian Trail. The view from this point is considered one of the best in the White Mountains. The Appalachian Trail follows the ridgeline with side trails to the summits of Adams, Jefferson, Clay, and Mt. Washington itself. The highlights of this airline route are between Madison Springs and Lakes of the Clouds huts.