Mt. Chocorua: Champney Falls Trail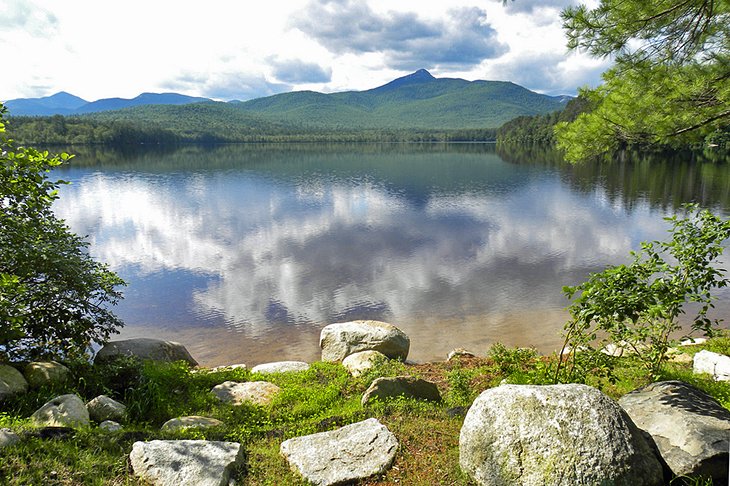 New England's most photographed mountain is a familiar image, standing almost alone with its distinctive peak reflected in the mirror of Chocorua Lake. The most commonly climbed trail – Piper Trail – leads from Route 16, not far north of the lake and the famous view. But from the Kancamagus Highway (Route 112), you can climb via the Champney Falls Trail, a longer route, but more varied and interesting. It also gives you the option of returning by another trail, making a loop that returns to within 100 yards of the original trailhead. A little more than a mile into the climb, you'll find a side trail to Champney Falls and neighboring Pitcher Falls. This makes a nice shorter hike if you're not up for the round trip to the summit and back, but if the weather has been dry, the falls may be underwhelming.
The top of Mt. Chocorua is rocky ledge, and this trail joins the Piper Trail to traverse to the peak. If you choose the longer route back, follow signs for the Bee Line and Bolles trails, but be aware that this makes a round trip of nearly 10 miles and includes another climb through a pass that few people even know exists. Be sure you have a trail map and the latest edition of the AMC White Mountains Guide before taking this route. Watch the weather closely, as Chocorua's rocky summit is treacherous when it's wet, icy, or wreathed in cloud.