New Hampshire's White Mountains offer more than magnificent scenery and popular tourist attractions. They are among the nation's most loved places to hike and climb. On its way from Maine to Georgia, the Appalachian Trail crosses the state along the ridgelines of the Presidential and Franconia ranges, over the summit of Mt. Washington (the highest peak in the Northeast), and through a vast wilderness area. Spaced a day's hike apart along the trail are huts operated by the Appalachian Mountain Club (AMC), where hikers can sleep and eat with fellow mountain enthusiasts. Before starting any of these trails in the mountains, get a copy of the latest AMC White Mountains Guide, be sure you have plenty of water and warm clothing in your pack, and check a weather report. Abrupt and violent weather changes are common above tree line, and snow has fallen here in all months of the year.
A good base for hikers is the AMC's Highland Center, where you'll find a hostel, equipment, up-to-date trail information, and guided hikes for beginners and experts. A hiker shuttle makes it possible to take longer trails without returning to the same trailhead. Not all New Hampshire's mountains are in this northern range, and you'll find hikes and climbs in the southern part of the state, too. Along with trails that require serious preparation, this list includes shorter hikes to waterfalls and even mountaintops suitable for families and those not interested in strenuous multi-day hikes.
1 Mt. Monadnock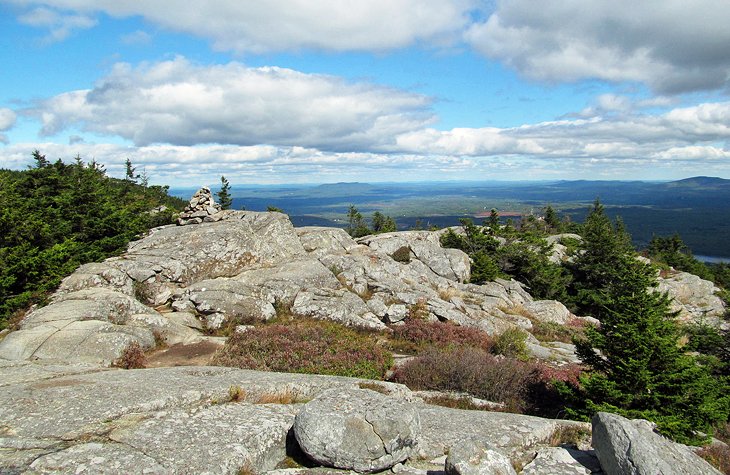 Reputed to be the most frequently climbed mountain in the world, Monadnock stands alone in southwestern New Hampshire, where its rocky summit offers 360-degree views that reach as far as Boston on a clear day. You have several choices of trails. The most popular is the White Cross Trail, a four-hour round trip over moderate terrain. It begins at the entrance to Monadnock State Park off US 101 in Jaffrey. The longer Pumpelly Trail, more difficult but with more variety, climbs the opposite side of the mountain from the shores of Dublin Lake in Dublin, also off US 101. The Pumpelly Trail takes six or seven hours round trip, beginning with a romp in the woods and ending in a scramble over rocks and boulders as the trail rises and drops along an uneven ridge above the tree line.