Sedona is one of the most scenic areas of Arizona and one of the best destinations for casual hikers looking to spend a few hours walking along the red rocks or through dramatic canyons. Trails here range from easy, family-friendly paths around buttes or along the base of cliff walls to more challenging routes that will take you high above the town to ridges with fabulous lookouts.
In addition to the incredible views, other highlights along some of the trails include a natural bridge, rivers and streams, wildlife, and even energy vortexes. Set at an elevation of over 4,300 feet, hiking trails around Sedona are not as hot as those in the desert around Phoenix or Tucson, but it's low enough that you can hike here year-round. Hit the trails with our list of the best hikes in Sedona.
1 Cathedral Rock Hike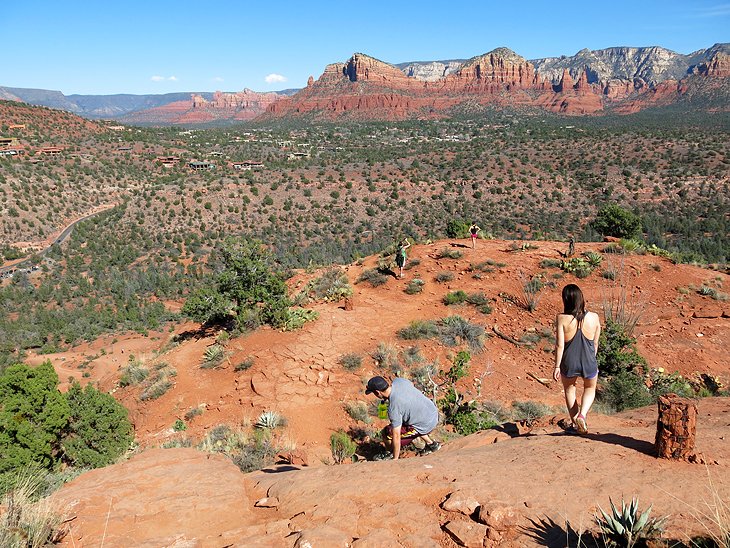 With so many great hikes in the area, it's hard to say which hike is the absolute best hike in Sedona, but when people see the landmark Cathedral Rock, hikers undoubtedly ask if they can hike up it. This popular trail offers fantastic views of Bell Rock, Courthouse Butte, the colorful Mogollon Rim, and once you reach the saddle, vistas of the rolling landscape to the west. It is also home to one of Sedona's famous energy vortexes.
The trail runs up the east side of Cathedral Rock, across a relatively flat area, then ascends up the rocks, crossing the Templeton Trail. Some sections are quite steep and can be a bit tricky. It will definitely require the use of hands and feet. The trail is about one mile round-trip with a total elevation gain of 550 feet.