It is truly a mind-bending experience to hike in a forest of the tallest trees on earth. Wandering through this almost prehistoric landscape of towering giants, enormous tree trunks, ferns, and lush vegetation, you may feel like you've walked onto a movie set. And, in fact, portions of The Lost World: Jurassic Park were filmed in Redwood National and State Parks. It's also interesting to note that these modern-day giant redwoods, standing as high as 379 feet, are descendants of the same type of trees that dinosaurs walked among during the Jurassic Period.
The hiking trails in the Redwood National and State Parks vary in length but are all generally quite easy, with very few, if any, technically difficult areas on most trails. Although some trails have elevation gains, they are mainly level underfoot, and fairly wide. This is fortunate, since most of your time may well be spent looking skyward. While hiking, keep an eye out for brightly colored banana slugs and other interesting critters.
Redwood National and State Parks consist of the jointly managed Redwood National Park, Prairie Creek Redwoods State Park, Del Norte Coast Redwoods State Park, and Jedediah Smith Redwoods State Park. They extend, in this order, from south to north along the coast.
1 James Irvine Trail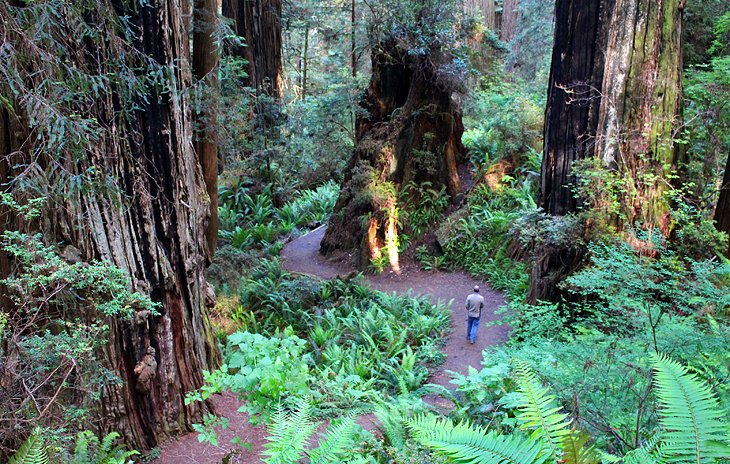 The best overall hike in the parks, and possibly the best redwoods hike in the world, is the James Irvine Trail in Prairie Creek Redwoods State Park. This trail runs along hillsides and ridges through an incredible display of old-growth redwoods. Even if you don't have time to complete the entire 10-mile hike, it's worth walking in for a mile or two and returning along the same path, just to see the giant redwoods that cover the hillsides. From the trail, you can see the forest from different levels; looking up at them from below the base or across the valleys for a more elevated perspective.