Just over an hour's drive from Las Vegas, Valley of Fire State Park is one of Nevada's great treasures. The diversity and drama of the landscape in this compact park is stunning. Canyons, petroglyphs, unique stone formations, and colorful swirling rock hills stir the imagination and provide incredible opportunities for hiking.
If you have only a single day to spare in Las Vegas, it's well worth making the trip to Valley of Fire to tackle a couple of short hikes and see a few sights. In a weekend, you can easily tackle most, if not all, of the hiking trails, as well as see the major sites. In the spring, the wildflowers bring color to the park, and any time of year you are likely to see some wildlife.
1 Fire Wave Hike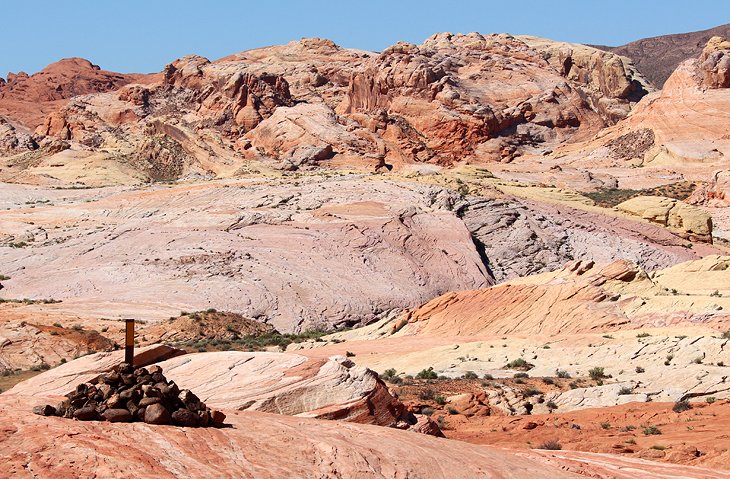 If you have time for only one hike in the park, this is the one to do. This 1.2-mile trailoffers the most stunning vistas and lets you immerse yourself in the landscape. Colorful rock hills and mounds stretch out from your feet in every direction as you stand on striated stone fields.
The trail is an out-and-back hike that descends from the parking lot, across a sandy slope, which is dotted with wildflowers in the spring. Views to the left peer out over the red rock ridges and distant mountains, while in front of you stands a red rock wall. The trail rounds this huge fin and leads to a wide-open sloping area of orange rock that looks out onto an undulating pallet of colors. Rock ridges of pink, yellow, and orange, flow out before you, tempting hikers to make a few unscheduled climbs. The trail is marked with posts and stone cairns, but this is an area where you can wander freely and explore, with each direction revealing unique perspectives.