Hiking Tips: The best time to hike Yosemite Falls is in the spring, when the waterfalls are abundantly flowing. By August, the water levels are lower, and the falls are less impressive. In summer, begin the hike early in the day because the trail can be very hot by noon, and the upper portion is exposed, with no shade by the late afternoon. In spring and autumn, consider the length of the round-trip hike and the time of sunset; be sure to set out early enough to complete the round-trip in daylight. Bring bottled water because drinking water is not available on the trail. Watch out for areas of loose sand and rocky terrain that can be slippery. Do not stray from the trail, some areas lead to dangerous steep drops.
2 Mount Shasta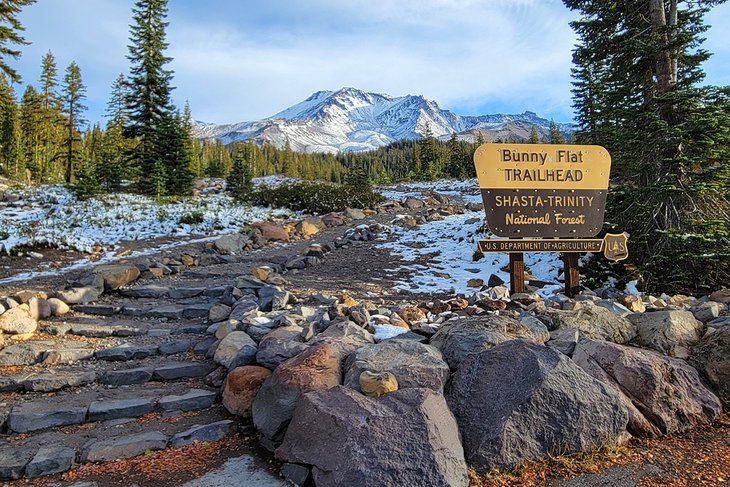 The majestic snow-capped Mount Shasta is one of the most inspiring places to hike in California. Many visitors come to Mount Shasta seeking a spiritual experience in nature. Adventurous outdoor enthusiasts come for the challenge of climbing to the mountain's summit. However, Mount Shasta has plenty of hiking trails that are suitable for the average hiker. A popular hike is the Gray Butte Trail, with its trailhead at an impressive 7,500-foot elevation. This moderate four-mile round-trip trail gains 600 feet in elevation and takes about two hours to complete.
The trail crosses through the expansive Lower Panther Meadow and continues up through a pristine forest of old-growth Red Fir Trees. At the fork in the trail, the righthand-side ascends through a stand of fragrant Mountain Hemlock Trees. The trail continues past the Lower Peak to the Upper Peak of Gray Butte, offering splendid panoramic views at several vantage points along the way. Hiking Tip: This hike is only accessible in the summer and early fall, from late June until late October.