California is a hiker's paradise, with an incredible diversity of landscapes. The nature sites are so sublime that simple descriptions only hint at their grandeur: the magnificent glacier-carved valley of Yosemite, a breathtaking mountainous coastline in Big Sur, the serenely barren Mojave Desert, the majestic snow-capped Mount Shasta, and a rugged, untamed wilderness in Solstice Canyon. Many of the national parks also boast record-breaking statistics. Yosemite National Park has the tallest waterfall in North America, while Mountain Whitney has the highest summit in the continental United States, and the tallest trees in the world are found in the Redwood National and State Parks. This list of top-rated hikes covers the highlights of California's nature trails, mostly moderate to strenuous hikes at famous sites like Yosemite and Mount Shasta. For those ready to take on an extreme challenge, the list includes two epic hikes at legendary nature sites, Mount Whitney and the Lost Coast, that should only be attempted by advanced hikers.
1 Yosemite Falls Trail: A Spectacular Hike to North America's Tallest Waterfall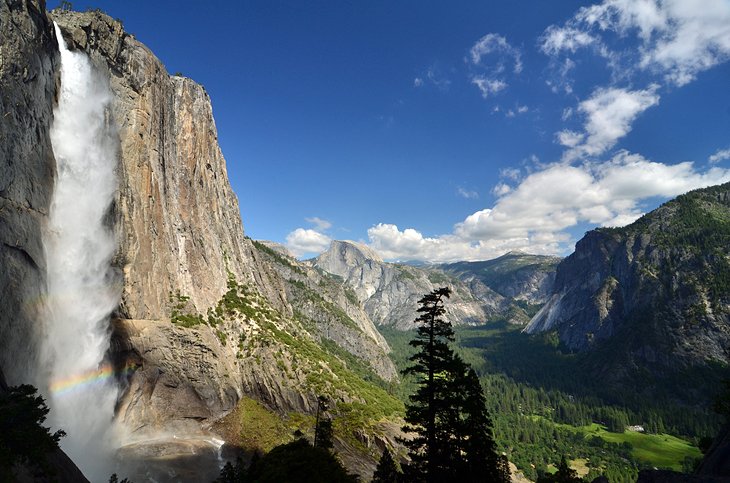 This famous trail rewards hikers with views of Yosemite's most spectacular waterfalls as well as sweeping panoramas of the valley floor. The trail includes two parts: The two-mile section to Columbia Rock, a moderate hike that ascends 1,000 feet through a switchback trail. Be sure to stay on the path, since wandering off can lead to dangerous sheer drop-offs near the trail. Most hikers will be satisfied with completing the Columbia Rock portion that takes two to three hours round-trip. From here, hikers are awed by the bird's-eye view of Yosemite Valley's meadows, with the Merced River winding its way down the center, enclosed by Half Dome and Sentinel Rock.
The second part of the trail up to Yosemite Falls is more difficult. This strenuous seven-mile round-trip hike ascends 2,425 feet, up rugged terrain and steep hillside staircases. To complete this round-trip hike takes another six to eight hours from Colombia Rock. One of the world's tallest waterfalls and the tallest in California, the Yosemite Falls actually has three parts: the 1,430-foot Upper Yosemite Fall, the 675-foot Middle Cascades, and the 320-foot Lower Yosemite Fall. The trail lies thrillingly close to Yosemite Falls. While climbing the trail, hikers often feel mist from the waterfalls, and after reaching the summit of this challenging trail are rewarded with incredible vistas. The panoramic outlook from the top of Yosemite Falls extends over the entire valley.